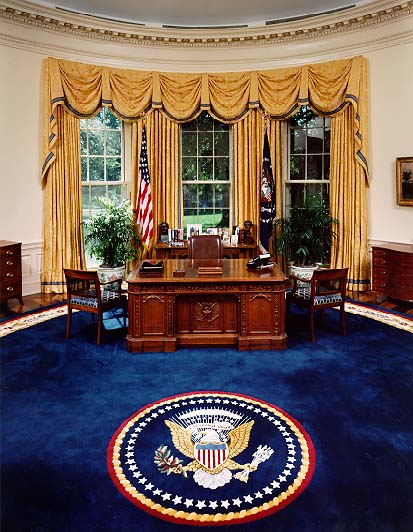 Victoria sent a surprise gift to the White House for President Rutherford B. Hayes of a desk. The 1,300 pound, elaborately carved, 6 foot wide by 2 foot 8 inch high oak desk is called the Resolute Desk since it was made from the recycled timbers of a British ship. The HMS Resolute was abandoned by its crew in 1854 in the arctic after becoming stuck in ice. The next year, an American whaling ship found the HMS Resolute, had it refitting in the Brooklyn Navy Yard, and send back to England as a symbol of friendship. When the ship retired in the 1870s and was going to be broken up, Queen Victoria recycled the timber into a gift for the U.S. President as another symbol of friendship between the two countries. Every President from President Hayes through President Dwight D. Eisenhower used the desk. President JFK first placed the desk in the Oval Office in 1961. Then, after being on exhibit for 10 years at the Smithsonian, President Carter put the desk back to use in the White house and every president since Carter has used the desk, most in the Oval Office.
Martin Van Buren
President Andrew Jackson gave Martin Van Buren a recess appointment to be Minister to Great Britain. Shortly after arriving in England, the Senate convened in January 1832 and voted against Van Buren's nomination 24 to 23. Vice President Calhoun, acting as the President of the Senate, cast the tie-breaking vote against the nomination. Here is the roll call on the vote. 
Senate roll call vote on Martin Van Buren's nomination to be Minister to Great Britain, January 25, 1832. 
Angry at Calhoun for having negated his nomination of Van Buren, Jackson dropped Calhoun from his 1832 Presidential election ticket and replaced him with Van Buren. The two went on to win the 1832 election and Van Buren won the 1836 election as president.