Letter from Johnny Cash to President Gerald Ford Regarding Amnesty and Pardons (1974)
---
Former President Gerald R. Ford receives the John F. Kennedy Foundation's Profiles in Courage Award from Caroline Kennedy and Senator Ted Kennedy present President Ford. May 21, 2001 
President Gerald R. Ford meets with Country Western singers Johnny Cash and June Carter Cash in the Oval Office of the White House. November 21, 1975.
General Robert E. Lee's Pardon and Amnesty
On April 19, 1865, Union General Ulysses S. Grant met with Confederate General Robert E. Lee in Appomattox Court House in Virginia. The meeting was to formalize the end of the Civil War and the surrender of General Robert E. Lee's army. The next month, on May 29, 1865 President Andrew Johnson issued a Proclamation of Amnesty and Pardon to Confederates who had participated in the rebellion against the United States. However, fourteen classes of people were not included in President Johnson's Proclamation of Amnesty and Pardon and members of those classes had to submit special applications to the President to obtain amnesty and/or pardon. 
Two weeks after President Johnson's proclamation, on June 13, 1865, General Lee send his application to General Grant writing: "Being excluded from the provisions of amnesty & pardon contained in the proclamation of the 29th... I hereby apply for the benefits, & full restoration of all rights & privileges extended to those included in its terms. I graduated at the Mil. Academy at West Point in June 1829. Resigned from the U.S. Army April '61. Was a General in the Confederate Army, & included in the surrender of the Army of N. Va. 9 April '65."
General Lee was never pardoned, however, and his United States citizenship was never restored in his lifetime. Then over 100 years later in 1970, an archivist at the National Archives in Washington D.C. discovered General Lee's Amnesty Oath while looking through State Department records. Archivists discovered that Civil War and Reconstruction era Secretary of State William H. Seward had given General Lee's amnesty application to a friend as a souvenir, and thus it was never processed.
Then five years later, in 1975, a joint congressional resolution restored General Robert E. Lee's full rights of U.S. citizenship effective June 13, 1865, two days after Lee's original application was sent to General Grant. Gerald R. Ford signed the congressional resolution on August 5, 1975, saying "General Lee's character has been an example to succeeding generations, making the restoration of his citizenship an event in which every American can take pride."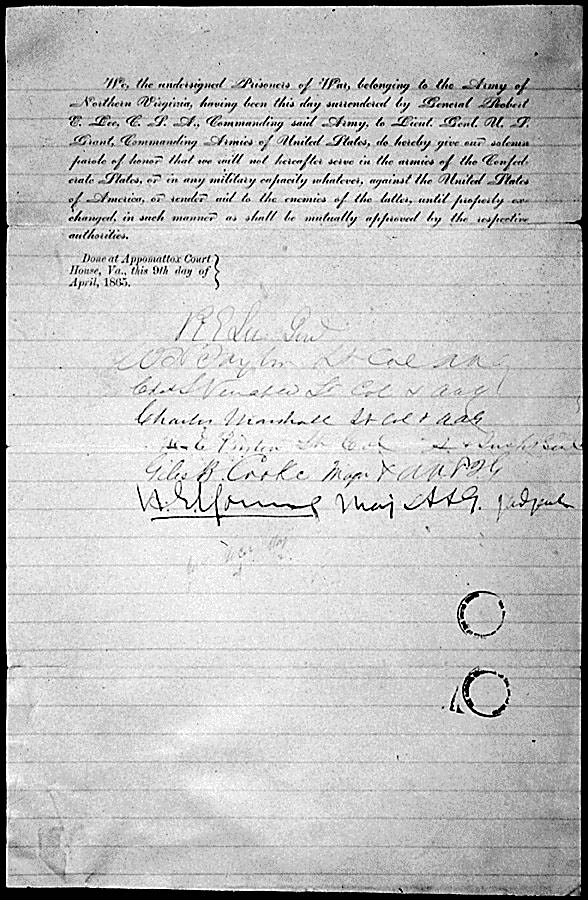 General Robert E. Lee's parole document dated April 9, 1865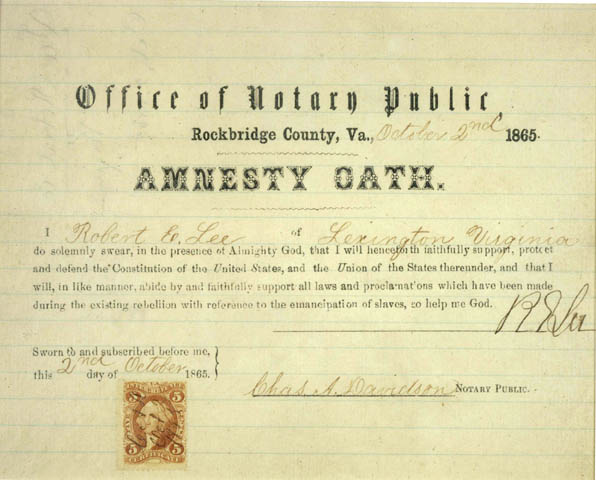 General Lee's Amnesty Oath signed October 2, 1865. His full citizenship was not restored until 1975.